What is Ecommerce Mean?
What is e-commerce mean? It is essential to comprehend before starting an online store. E-commerce refers to the exchange of products and services over the internet. Startups, well-established businesses, and international firms may all promote their products internationally because of e-commerce. While some firms use their websites to sell products, many use them as a marketing means as part of a much larger company strategy that typically includes storefronts and other income streams.
Ecommerce Business History
The first significant eCommerce business was formed in 1969 by Jeffrey Wilkins and Dr. John R. Goltz, and its name was CompuServe. This business got established using a dial-up connection. After the internet was made commercially accessible in 1991, eCommerce fully explored its potential.
History of E-commerce in Different Periods
1969: CompuServe was the first e-commerce company to launch.
1979: Michael Aldrich pioneered electronic commerce, allowing for secure data transmission.
1982: Launch of the Boston Computer Exchange, the first online computer marketplace.
1994: Marc Andreessen and Jim Clark.co-created Netscape Navigator which is a web browser.
1995: Launch of Amazon and eBay.
1998: PayPal made its debut as an e-commerce payment system.
1999: Alibaba began with more than $25 million in funding.
2000: Google introduced Google Ad Words for internet marketing.
Important Business Statics of E Commerce One Need to Know
In recent years, the expansion of the eCommerce industry has been phenomenal, with the clothes and beauty sectors experiencing consistent double-digit growth. Going worldwide to succeed today is a requirement, not a strategy.
Over 2.14 billion individuals are anticipated to purchase online in 2021. (Statista.com)
By 2023, eCommerce will represent about 22% of all retail sales worldwide.
In North America, e-commerce makes up around 8.1% of all retail sales.
What is the Importance of Ecommerce Business?
The e-commerce platform is currently significantly altering the traditional purchasing experience. Customers, businesses, and nations are now connected for business, education, pleasure, and work e-commerce is now a common platform. The significance of e-commerce is discussed below.
E-commerce makes it easier to monitor costs.
It aids in brand expansion.
Variety of Products.
Draw in new clients.
Improved marketing possibilities.
Reduces business risk.
What are The Advantages of Ecommerce?
Online sales provide several essential benefits. The top advantages of e-commerce are:
Expanding quickly: Global revenue from e-commerce was close to $2.9 trillion in 2020, and Statista projects that figure will increase to roughly $4.2 trillion by 2025. By 2025, that global revenue is anticipated to increase by 8% annually.
Easy online ordering: It is made possible by the various forms of e-commerce, which allow clients to easily browse possibilities and purchase items from everywhere.Amazon Pay and other money transfer solutions have significantly streamlined the purchase process.
Offers worldwide marketing reach: In the past, a company's potential customer base was only as large as the number of people who could physically enter through its front doors.The growth of social media and increased online activity have made it easier for owners of e-commerce businesses to access a diverse range of new clients.
Reduced operating costs: With the aid of website construction tools and services, you may rapidly launch your online store on social media or at an online retailer like Amazon. Compared to maintaining a conventional brick-and-mortar store, it is less expensive.
Provides access to consumers directly: E-commerce companies can communicate directly with their target market thanks to the internet. You don't necessarily need to invest in a giant billboard or television ad campaign to get your audience's attention.
What are the Major E Commerce Business Models in 2023?
Before choosing the best e-commerce model for your company, you must identify two things. You must decide who you will sell to before considering how to present your offer. In 2023, the key e-commerce business models are:
Business-to-business (B2B)
Business-to-consumer (B2C)
Consumer-to-consumer (C2C)
Consumer-to-business (C2B)
Business-to-administration (B2A)
Consumer-to-administration (C2A)
Mobile e-commerce
What Factors Make an Ecommerce Business Successful?
1 Brand Name
Make a catchy brand name.
Make sure your brand remains constant.
Don't alter your domain name.
2 Layout of the Store:
Design a user-friendly interface.
Transparency in information.
3 Search Engine Optimization (SEO):
Use relevant keywords.
Use relevant keywords.
4 Multiple-Channel Advertising:
Promote on social media.
Email marketing.
Content marketing.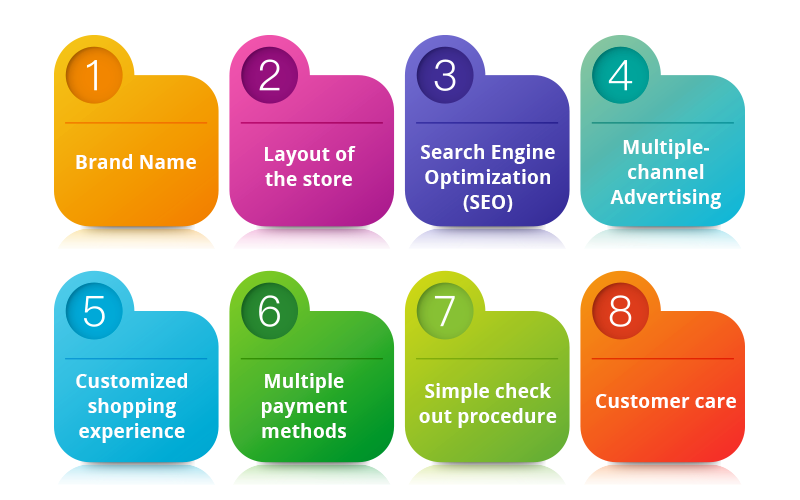 5 Customized Shopping Experience:
Customer satisfaction is essential.
Make the customer's task easy.
Offer discounts and deals.
6 Multiple Payment Methods:
Give offline payment options.
Provide third-party payment.
Online payment.
7 Simple Check-Out Procedure:
Add buttons for saving lists.
Checkout on a single page.
8 Customer Care:
Offer customer care.
Obtain feedback frequently.
Respond to all questions from customers.
Start Selling on Ecommerce Today
In a word, using an e-commerce website or store to sell online is a fairly easy, quick, cheap, and risk-free process. If you're thinking of starting an online store, contact HRL Infotechs. We are here to increase your sales so you may have a strong robust online presence. Every individual has a chance in the online market to succeed with their e-commerce firm.
Frequently Asked Questions
Q1 Is Ecommerce is Safe? 

Websites use encryption to safeguard sensitive and private data. For e-commerce websites, a TLS/SSL Certificate is a prerequisite. Web browsers also warn that a website is secure if it has a TLS certificate
q2 What is Ecommerce Platform?

The content management system (CMS) and commerce engine that websites employ to manage purchases, catalogued products, and user relationships with online retailers is known as an e-commerce platform.
Some popular e-commerce platforms are Squarespace, Square Online, Best for Omnichannel Selling, Ecwid, Shift4 Shop, Shopify, Wix, Weebly, BigCommerce.

q3 What is Ecommerce Advertising?

E-commerce advertising is a technique for raising awareness of an online store to increase website traffic and new customer acquisition through sponsored placements on third-party platforms."What is e-commerce Advertising?" Is an important question to consider.


Q4 What Time People Shop the Most Online?

The same study reveals that 12 P.M. and 1 P.M. are the most popular shopping hours in the US. On Mondays and Thursdays, with the peak hour being between 8 P.M. and 9 P.M. everyday customers are inclined to make an online purchase. 

q5 What is Ecommerce Site?

The straightforward answer to your query, "What is an e-commerce site," is that e-commerce sites enable customers and businesses to purchase and sell to one another on a specific platform, much like a conventional physical retail store.