What Is Amazon Global Selling?

Amazon Global Selling, commonly known as AGS, is a programme that enables vendors to list and sell goods on Amazon's international markets.
Currently, Amazon has 13 online marketplaces (or websites) globally, allowing sellers to scale their operations anywhere, regardless of their physical locations.
Some online markets are pretty new; Amazon Marketplace, for instance, just opened the Australian market. For each nation, excluding those with unified amazon seller accounts, you require an Amazon seller account (individual).

Europe (UK, Spain, Italy, Germany, and France)
North America (U.S., Mexico, and Canada)

All other regions in your Unified Amazon Seller Account will be instantly accessible to you whenever you register on one of these online marketplaces.
How Does Amazon Global Selling Work?

AGS (Amazon Global Selling) is easy to use and understand. These actions are part of it: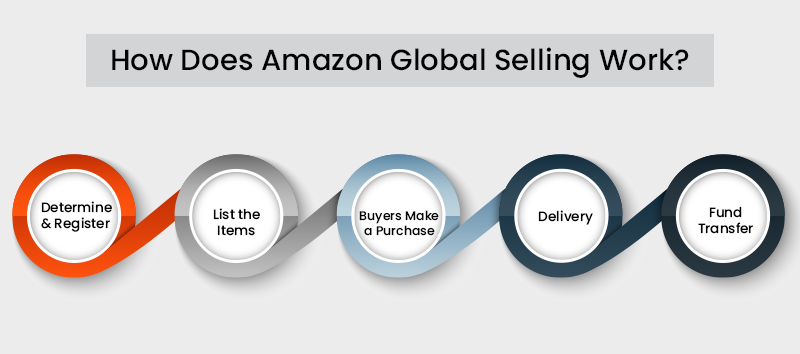 Determine & Register: Before registering in the online marketplace where you wish to sell, you must decide.

List the Items: After registering, you must specify the products you want to sell.

Buyers Make a Purchase: The customers view your stuff after that and buy them. When this occurs, you will receive messages telling you where to ship your goods.

Delivery: You either deliver your goods to customers and verify shipments or authorize Amazon to handle order fulfillment via Easy Ship or Amazon FBA.

Fund Transfer: Additionally, Amazon sends the money it has received from the customer to your bank account after deducting its everyday expenses.
What and Where to Sell Internationally on Amazon?

In a global market, selecting what to sell and where to sell it can occasionally require time and effort. To evaluate the target market, one method is to use the "4Ps" marketing strategy framework:

1. Product

A logical tactic is to hunt for the best-selling things in your local (source) marketplace while initially selling internationally on Amazon. Could you determine what can sell well based on your past experiences and sales data reports?
While conducting the research, ask yourself these questions:
Why do you think the goods you've chosen for shortlisting will succeed?
Will your chosen justifications for the shortlisted goods apply to your intended marketplace?
Will the product benefit the target market's consumers?
What advantages might you derive from marketplace differences?

2. Price

The following aspects need to be considered when determining price and selling outside of your local market:

Cost of shipping, especially when sending products directly to foreign customers.
International return shipping costs incredibly if you are fulfilling the orders.
Using Amazon FBA, you must ship your inventory to fulfillment centers overseas.
The price for any other customer service provider you choose or for customer support in the native tongue.
Costs associated with currency conversion are incurred when receiving funds in your local currency.
The price of translating your ASIN listings into any other language.
The taxes and tariffs for the target marketplace.
3. Placement

Along with expanding abroad, you should consider scaling your global Off-Amazon sales. You can create a global plan using these Amazon services:
Amazon Product Ads: One of the best advertising tools for giving users easy access to other products on outside websites is Amazon's Product Ads. While customers shop for your products or other related products on Amazon.com, Amazon marketplace shows them your adverts. You must select the cost-per-click (CPC) bids and budget and upload your product catalog.

Multi-channel Fulfillment: As an Amazon seller, if you use Amazon FBA to manage customer orders, you can use the same feature to manage your online sales from other networks. The FBA option that fulfills orders from sources other than Amazon is "Multi-Channel Fulfillment."

4. Promotion

Similar to your local marketplace, Amazon marketplace provides tools to assist with product promotion and advertising. These promotional techniques, which can include Money Off, Buy 1 Get 1 Free, External Benefits, and Free Delivery, vary from one Amazon Marketplace to the next.
Benefits Of Amazon Global Selling
Selling your items on a global scale can significantly improve your customer base.
The best part is that Amazon handles all your shipments' customer service via Amazon FBA, which makes the entire process stress-free. As a result, thanks to this, you can enter the market more quickly and without spending much money. It opens the door for your international sales.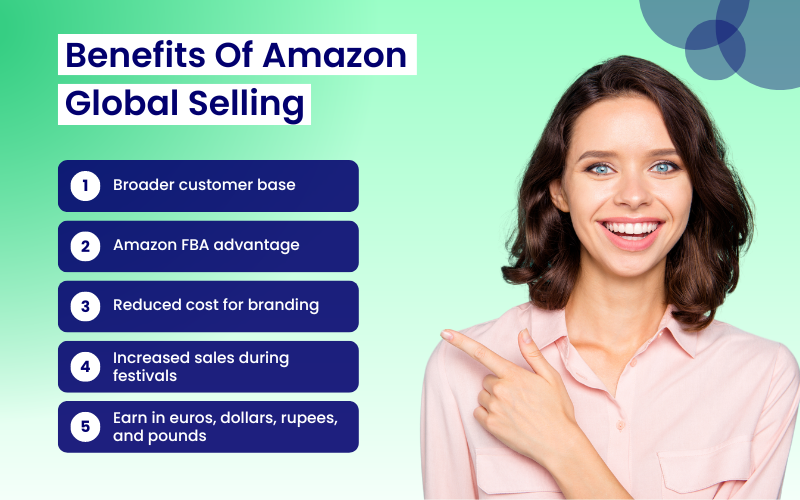 Benefits:

Broader customer base: You can connect with a wider variety of customers once you sign up.

Amazon FBA advantage: Due to Amazon's FBA, customer service and international delivery are no longer challenging.

Reduced cost for branding: Amazon makes it simple to go worldwide because you are already well-known in the market where you are already selling. It lowers the price of brand development.

Increased sales during festivals: Whether it's Black Friday, Cyber Monday, or Christmas, you may increase your sales throughout the festive seasons that are observed all around the world.

Earn in euros, dollars, rupees, and pounds: Amazon ensures that you get paid safely and on time, handling everything from currency translations to fund deposits into your bank account.
List of Amazon Marketplaces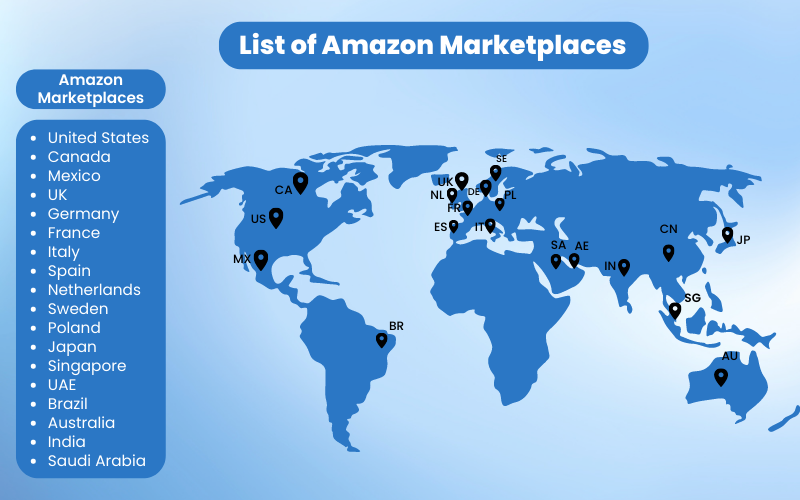 Amazon Global Selling

Amazon Marketplaces

Insights

Amazon United States (amazon.com)

Traffic: 3.1 billion
Language: English
Amazon Canada (amazon.ca)

Traffic: 231 million
Language: English
Amazon Mexico (amazon.com.mx)

Traffic: 89.67 million
Language: Spanish
Amazon Europe

Amazon UK (amazon.co.uk)


Traffic: 569.64 million
Language: English

Amazon Germany (amazon.de)

Traffic: 605.38 million
Language: German

Amazon France (amazon.fr)

Traffic: 269.79 million
Language: French

Amazon Italy (amazon.it)

Traffic: 251.72 million
Language: Italian

Amazon Spain (amazon.es)

Traffic: 198.45 million
Language: Spanish

Amazon Netherlands (amazon.nl)

Traffic: 32.93 million
Language: Dutch

Amazon Sweden (amazon.se)

Traffic: 10.29 million
Language: Swedish

Amazon Poland (amazon.pl)

Traffic: Unknown
Language: Polish

Individual Amazon  Marketplaces

Amazon Japan (amazon.co.jp)

Traffic: 646.97 million
Language: Japanese

Amazon Singapore (amazon.sg)

Traffic: 7.18 million
Language: English

Amazon UAE (amazon.ae)

Traffic: 21.50 million
Language: English

Amazon Brazil (amazon.com.br)

Traffic: 115.31 million
Language: Portuguese

Amazon Australia(amazon.com.au)

Traffic: 44.71 million
Language: English

Amazon India (amazon.in)

Traffic: 295.51 million
Language: English
Amazon Saudi Arabia (amazon.sa)
Traffic: 4.62 million
Language: Arabic
In order of seller popularity, they are mentioned in the table below:
As mentioned above, Amazon operates 13 online amazon marketplaces (or websites) internationally, helping you grow your e-commerce business quickly in other countries all over the globe. Allow yourself to introduce your brand and the items to millions of shoppers internationally.

After registering and selling internationally on Amazon marketplace, you immediately get access to Amazon's customers, who trust and know its buying experience. Hence, expanding your business only means having multiple benefits without shouldering the upfront cost of building a business name. Grow your business with HRL Infotechs, reach out to us in case of any assistance right away.