Uplift Your Sales by 3x with Walmart Account Management Services!
On almost any e-commerce site, there are countless strategies to boost sales. Furthermore, you are in the ideal place if you are prepared to sell on Walmart or are already doing so. Here is a quick question to get things started. Do you have a successful strategy supporting a rich customer experience in your Walmart shop while optimizing conversion rates?
Walmart is a growing market with more than 110 million unique visitors. It has given numerous vendors access to a Perfect Platform with a powerful conversion rate optimization method. Records show that Walmart has room to sell 11 million different things. This gives you enough reasons to seek ways not just to sell but increase sales on Walmart and reap the benefits.
The past year was essential in clearing the way for the development of the e-commerce market. The market's emphasis on customer satisfaction and buyers' changing expectations have led to improvements that will alter how you sell in 2022. Regarding Walmart store management, the change in consumer behavior resulted in several market developments. 
Few stats that prove the need for Walmart Account Management Services:
The US e-commerce market saw a 37% revenue gain during Walmart's Q1 FY22.

 

Walmart earned $138.3 billion in the first quarter of 2021, which is $6.34 billion more than the prediction and handily topped Wall Street's revenue and earnings per share projections, according to the company.

 

Walmart recently revealed its plans to allocate $14 billion in the fiscal year 2022 toward "capital improvements, including changes to the supply chain, enhanced automation, and other business areas that executives think will fuel long-term sales growth.
Reading this blog lets you learn about the evolving e-commerce market industry and the exciting things coming up in 2022. Examine the changes made to the Walmart Marketplace last year and learn everything you need to know to sell on Walmart in 2022.
How to Sell Your Products on Walmart?
You must finish a five-step application process to start selling on Walmart.com as an authorized third-party (3P) seller. These steps are mentioned below:

Approval

Contract

Registration

Onboarding

Request Launch
Qualifications to Sell On the Walmart Marketplace.
The Walmart Marketplace has several minimal requirements for 3P sellers to ultimate ensure that they live up to Walmart store management's standards in 3 crucial areas:
E-commerce experience

A fascinating products catalog that amplifies Walmart's overall offerings

History that demonstrates a persistent commitment to delivering a pleasant client experience
Walmart Management Services Can Make Your Business.
If you are already running a business, you know how difficult and time-consuming it may be. There is always something that needs your attention, from inventory to order fulfillment. Therefore, whether you like it or not, you will eventually need to manage your brand's activities to prevent losses.
However, it's not like all sellers have the time to run their businesses full-time or the knowledge to use the Walmart marketplace, mainly if they are unfamiliar with this retail behemoth's system. Consequently, it would be wise to look for Walmart account management services from knowledgeable persons or reputable firms if you feel ill-equipped to handle your business at Walmart. Looking for a reputable firm to manage your account? Experts at HRL Infotechs can help you attain your goals. 
With Walmart account management services, you can get support and direction for your brand in the following areas:
Product listing optimization

Search engine optimization (SEO)

Sponsored ads management

Product launch

Brand protection and assistance
Profits of Using Walmart Fulfillment Services (WFS)?
Sellers can keep their inventory at fulfillment facilities run by Walmart, thanks to Walmart Fulfillment Services. The WFS team will pick, pack, and ship an order placed on Walmart.com on behalf of the seller. Walmart likewise handles orders placed through WFS regarding returns and customer service. The scale, reach, and efficiency that Walmart has worked so hard to perfect over the years are available to marketplace vendors that use WFS.

1. Ensure 2-day Delivery
Walmart is up to the challenge despite Amazon Prime's establishing the benchmark for quick shipping. WFS enables retailers to provide 2-day shipping within the contiguous United States. 2-day shipping also aids in the prominence of your products in the Buy Box, which increases the number of customers who will view your listings.

2. Management of Inventory & Orders
Sellers may track orders, inventory levels, and shipments using real-time reporting dashboards provided by WFS. The Fulfillment Insights tab in Walmart Seller Central enables retailers to monitor important shipment information by the carrier, region, and shipping performance.
3. Consumer Assistance
Walmart handles all consumer requests for information, refunds, and returns using WFS. To maximize product visibility and boost conversion, participating items are shown with tags like 2 Day Delivery, Free & Easy Returns, and Fulfilled by Walmart.
4. Uncomplicated Pricing
A monthly storage fee and transportation costs based on weight or dimension make up the basic pricing structure of WFS.
How Do Walmart Account Management Services Work?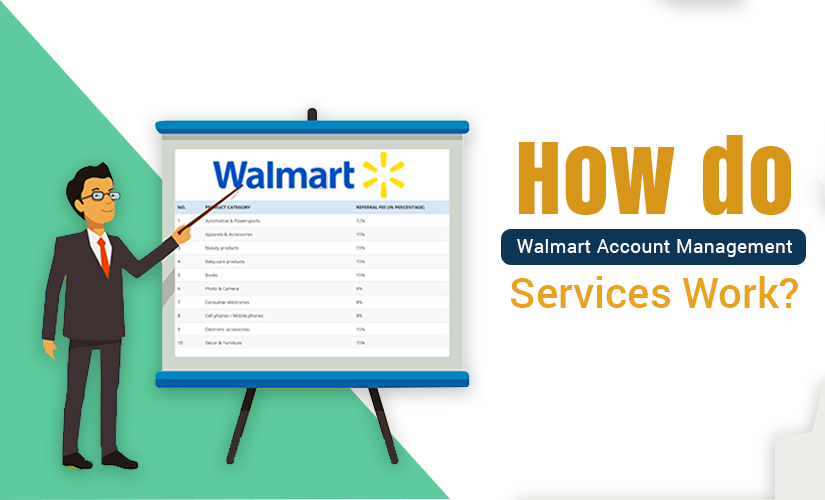 It's challenging to run an internet business, especially if you've only recently begun using a brand-new platform like Walmart. Even if you already have seller accounts on other platforms, you need to modify your tactics, learn the marketplace rules, and adjust to them. Because of these, managing other crucial activities to manage your business may make you feel overburdened.
Although being independent is admirable, there will be occasions when you need assistance from another person. It's not because you are weak or incapable; working with professionals like account managers will help you flourish. You may avoid losses and opportunity expenses, which can be harmful to your organization, by utilizing their abilities and experiences.
The challenges you have with managing inventory, sales, returns, and refunds, as well as introducing new products under your brand, are often covered by online Walmart account management services. Additionally, an account manager might recommend traffic-boosting marketing techniques like Pay-Per-Click (PPC) advertising and Search Engine Optimization (SEO). Finally, they can assist you in registering your brand with Walmart to protect it against copycats.
What Advantages Do Account Managers Offer to Walmart Sellers?
Walmart account managers may help with various aspects of your online store, as was already discussed. This section will cover the advantages of using their services in greater detail.
1.Help in your Walmart Store Management to save time and money.
Because they believe it will be a time and financial waste, many sellers are hesitant to hire account managers for their company. Instead of trusting someone who might cause more harm than good, they would manage their firms independently.
Although customers have legitimate concerns, they should know that many trustworthy and capable account managers are available, provided they are diligent when selecting one. However, they can anticipate reaping the rewards of hiring them after they make the appropriate choice for their team.
These advantages ensure inventory, orders, and returns are checked and tracked to prevent losses and missed opportunities. Additionally, with their help, you'll have more time for other crucial jobs and aspects of your organization, like product creation and research. Therefore, as you partner with them, you will make more money than lose it and may even scale your Walmart business.
2.Develop plans and strategies using the most recent market data and recommendations.
You might not always have the energy or time to absorb all the market rules and revisions that Walmart occasionally publishes. As a result, you could not alter your plans for campaign advertisements or product listing optimization. Even worse, your account could be suspended if you don't go by the rules and standards.
Consider using account management services from reliable businesses to avoid having your account suspended or losing out on sales chances. They can immediately alert you to make adjustments and prevent blunders because they are regularly informed of market requirements.
To retain your exposure on Walmart.com, they will also develop new plans and strategies for your SEO and PPC depending on the recently revealed modifications.
3.They aid you in completing and submitting commitments.
Comprehensive account management services also give you the assistance you need to complete and submit the requirements for different seller programs, which is an advantage. Your account manager, for instance, will help you with the criteria to file and execute your application if you need to register your brand with Walmart.
Additionally, they may help you set up your account to use Walmart Fulfillment Services (WFS). It would be advisable to let your account manager take care of it for you if you find it tedious to complete all of the required activities for this program.
4.Delivers professional advice to help you grow on Walmart Seller Central.
Employing an account manager gives your Walmart shop access to their support, but more crucially, their knowledge and experience. They can give you practical methods and best practices for scaling your business as they have collaborated with several Walmart and other online marketplace retailers.
Given that its customers can buy items on the Walmart marketplace at affordable prices, Walmart is renowned for its Everyday Low Prices (EDLP) approach. To draw in more customers, third-party vendors are strongly urged to use this tactic in their stores. 
For instance, a new Walmart vendor may initially find it difficult to set reasonable pricing for their goods. Due to their limited financial means, new Walmart sellers might not be willing to take that risk. The good news is that a Walmart account manager can assist you in determining the appropriate prices for your products without reducing your earnings. They are more than capable of boosting the sales of your products using marketing and listing optimization techniques.
To summarize, one of the best things you can do for your brand is to use Walmart account management services. They are in charge of crucial operations for your company, like inventory control, marketing, new product launches, etc. Walmart store management is the need of the hour for all the Walmart Sellers. Reach out to HRL for availing Walmart Account Management Services.