Concerning eCommerce platforms, Amazon is unmatched in terms of ease and scope. The best amazon account management agency helps amazon sellers in maintaining their accounts. As a reason, for several online shops, Amazon has emerged as a vital sales channel. About 350 million products are available in Amazon's inventory, surpassing Google as the #1 destination for search queries.
Amazon utilizes ASINs to maintain order among all of those goods. Nearly every good in Amazon's catalog has one, and knowing them is crucial if you want to market on this platform.
This tutorial will define an ASIN, explain why you require one and how to obtain one. Additionally, we'll advise you on managing your ASINs to safeguard your brand and give you more authority over your product information pages.
What is an ASIN on Amazon?
The ASIN (Amazon Standard Identification Number) is a globally-unique identifier. Every object marketed by Amazon and its affiliates has a ten-digit alphanumeric identification called an ASIN. In essence, it's the method Amazon uses to identify the millions of items in its collection. Such as B087JX1ZLQ for the curved wooden massage roller, meanwhile sleep supplement (another product) ASIN is B0B1ZK96QG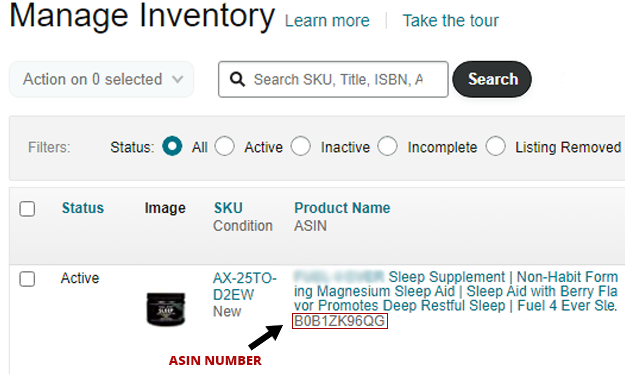 On an Amazon website, users can utilize the Amazon ASIN search for searching products. For instance, you may use the ASIN: "B0BMSDZQRW" to search for the coloring toy for kids.
How Can I Find a Product's ASIN
Mainly every Amazon product page contains the ASIN. It is located beneath the "Additional Product Information" box under the heading "Product Information." In this section, you can find additional product data, the best-seller status on Amazon, and the average customer rating.
Regardless of the absence of an ASIN provided in the Product details, a product's URL will still contain its ASIN. Seek the ten-digit sequence of digits and characters within two onward slashes ('/'), even as the URL for every product differs. The ASIN of an individual item is bold-stressed.
Some sample URLs: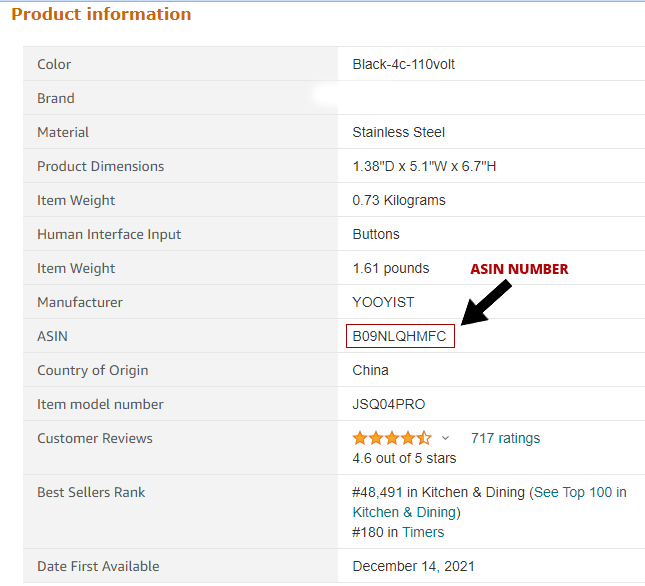 In certain circumstances, the URL will have extra characters visible just after ASIN, such as this:
If you aren't sure that you've located the correct ASIN and wish to double-check, enter it in the Amazon search field to see whether the right item is listed.
When to Generate a New ASIN vs. When to Use an Existing ASIN
Every item promoted on Amazon should contain a single ASIN and one product description page. All identical products are ultimately integrated with their ASINs. Customers will find it easier to browse Amazon's massive collection.
Existing ASIN
Inspect to see if the product includes an ASIN before you offer it on Amazon. You can begin to sell if one exists by making an offer underneath that ASIN. If you do this, you and any additional sellers of the same goods share the ASIN. This topic is typically for sellers, resellers, and widely distributed goods.
Create a New ASIN
You must create a brand-new item in Amazon's catalog if an ASIN doesn't exist. You can start selling a fresh item after Amazon gives it a special ASIN. Large brands, premium products, and suppliers with exclusive licensing rights frequently create new ASIN.
It's crucial to understand that joining the Amazon brand registry requires trademark registration for your business.
Why Sellers Need to Pay Attention to the ASIN
Amazon sellers can manage their ASINs in a manner that safeguards their identity, improves the quality of the description, and focuses visitors on the relevant ASINs.
Employing ASINs to Safeguard Your Brand:
Brand Gating is a strategy by which Amazon lowers the number of fake goods sold on its marketplace and safeguards brands from illegal use. Without the approval of the brand owner, it bans retailers from utilizing ASINs.
Amazon directs vendors to pay a cost (typically $1,000 or more for each brand) to market a gated brand. Furthermore, the seller must show that they have a license from their label by producing documentation (such as recent bills or signed permission).
If you want to protect your label, follow these steps to have Amazon check your brand and ASINs for gating.
Enlist your brand on Amazon.
Create a support request and email a list of the ASINs you would like to add after your brand has been accepted into the programme.
You can now access more robust descriptive choices, such as a unique brand story, improved photos, and textual placements. Your ASINs will also have accessibility to A+ material if you join the Amazon brand register, which is a bonus. As per Amazon, when appropriately done, integrating A+ content to your product descriptions webpages can lead to improved conversions, more visitors, and better revenue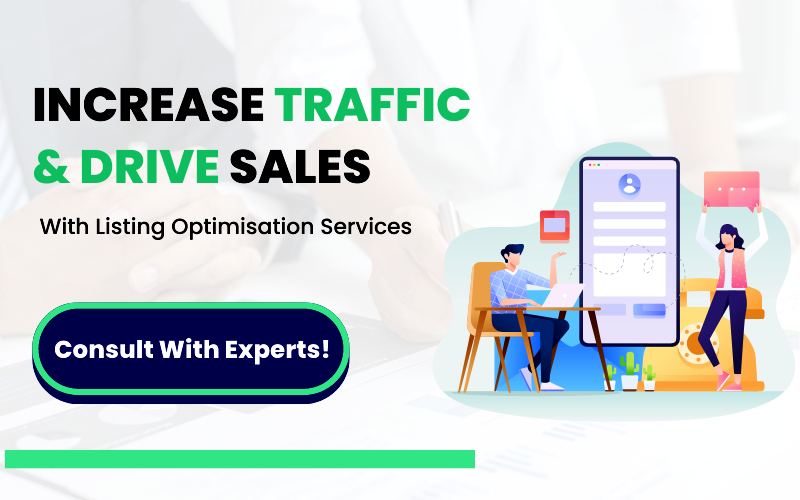 Combining ASINs:
At the beginning of the essay, we noted that Amazon doesn't permit numerous ASINs for a single item being sold through Amazon. Vendors frequently purposefully or mistakenly generate new ASINs whenever an ASIN for good exists.
As a result, diverse product information pages receive a diluted share of visitors for a single product. Additionally, shoppers may have an erroneous perception of the goods due to variations in the quality of product description pages and ratings.
What are Reverse ASIN Searches and Useful Tools?
The ability to seek the highest keywords for any Amazon listing, including your ASINs and those of your rivals, is described as a reverse ASIN search or Amazon reverse ASIN lookup. It contrasts with checking up search phrases and seeing which ASINs rank for each term individually.
Amazon Brand Analytics (ABA) can be used as a reverse ASIN lookup tool if your brand is listed on Amazon. When using ABA, this feature will only display ASINs among the top three-ranked items for at least one search term. It will also only display the top three ranked keywords.Additionally, other tools from outside sources can supplement this information or give non-Brand Registered Sellers another option. Though much more sophisticated technologies can begin to supply more data, such as possible cost-per-click and search frequency.
Reverse ASIN searches are primarily used to find relevant keywords.
Conclusion
Your marketing adventure requires careful consideration of Amazon ASIN. In light of its significance for your Amazon business, you should know how to obtain one. Establishing a legitimate identity for your goods to shop on Amazon more successfully would be best. A one-stop solution and best e-commerce marketing agency for Amazon merchants is HRL InfoTech's. We are open to administering you with the product's ASIN number. The ability for buyers to access your items is facilitated by the effective implementation of an appropriate ASIN with Amazon.
FAQS
Q1. What is ASIN?

ASIN on Amazon is a ten-letter or ten-number unique identification for goods that Amazon assigns. Its primary purpose is to identify products in its library of billions of products.
The ASIN and ISBNs correspond to books, respectively. A new ASIN gets developed when Amazon's record adds new items.

Q2. What Does ASIN Stand For on Amazon

The term "ASIN" stands for Amazon Standard Identification Number.

Q3. What is ASIN Number on Amazon

ASIN is a ten-digit code composed of digits and letters. Using the search bar on Amazon's home page or the add a product page in your Amazon Seller Central account will allow you to find an ASIN. Use a product's name, brand, barcode, or EAN to find it. To obtain the ASIN number, follow the link in the search engine results page that leads to the product's list page.

Q4. How to Get ASIN Number From Amazon

By including a distinctive EAN or UPC, Amazon can convert it into an ASIN before posting its information on the site.
If Amazon does not possess your specific item, create a new product.
To advertise your product, get some UPCs.
Amazon will then issue the goods as ASIN after you submit it along with its label UPC.