The eCommerce market is taking a new turn with the entry of top amazon aggregators. These aggregators are raising billions of dollars to acquire Amazon businesses. The explosion of these roll-up firms has encouraged many Amazon fba sellers across leading marketplaces like amazon to sell their brands at attractive payouts. 
Are you wondering what these huge upfront payouts mean for your store? What is the right time to sell your business? What are the worthy factors that can grab the attention of these amazon aggregators in your brand? Do sellers availing of Amazon FBA services have higher chances? And last but not least, who are the most popular Amazon FBA Aggregators? Keep reading the blog to find out answers to all your questions.
Role of Amazon FBA Aggregator
The popularity of Amazon as the most prominent e-commerce platform, pandemic shopping, and the rise in new sellers are the major reasons that paved the way for aggregators in the past couple of years. Amazon roll-up business or Amazon FBA Aggregators purchases smaller brands and works in order to make these less known brands popular and profitable enterprises. Yes, it requires funds, and they get these funds from big investors.  
Who are these Amazon FBA aggregators? Do they know your brand better than you? Many of these aggregators are ex-Amazonians, sellers, top businesses, startups, and gurus who have vast expertise and resources to change the fate of a brand. 
How does an Amazon Aggregator pick up a brand?
It's not just that Amazon aggregator picks up any average brand and works in the hope of its success. They choose the best one that can bring profit and have chances of scaling to the next level. Every aggregator has its own process or criteria to ensure that products that a brand owns are of high enough quality. Some have an interest in specific product categories. In contrast, others look for businesses that fall within a certain revenue range. Here we have listed some general requirements: 
1) Businesses that avail fulfilment by Amazon (Amazon FBA services) are in high demand since they require less logistical effort and benefit greatly from Prime shipment times.
2) As long as the things provide enough revenue, less is more. A few products worth $2 million each are far more desirable than several totaling the same value.
3) While some Amazon FBA aggregators employ a benchmark of $500,000, most look for brands with a minimum yearly net income of $200,000. Typically, minimum net margins are around 15% (with 10% being the lowest). 
4) Private-label brands and Amazon FBA sellers having their own products are of particular interest to aggregators. Also, enrollment in Amazon Brand Registry cannot be ignored due to its trademark protection. 
5) Amazon FBA Aggregators usually prefer popular products. Highly rated products with high reviews indicate product quality, customer loyalty, and trust. 
6) Many aggregators focus on a specific market and hence don't consider products that are viewed as out of trend or are very seasonal.
Top Amazon FBA Aggregators List
If we look into the current stats, there are more than 90 confirmed Amazon FBA Aggregators. They have raised around $12.5 billion funds in the last three years. We have listed some of the top aggregators below: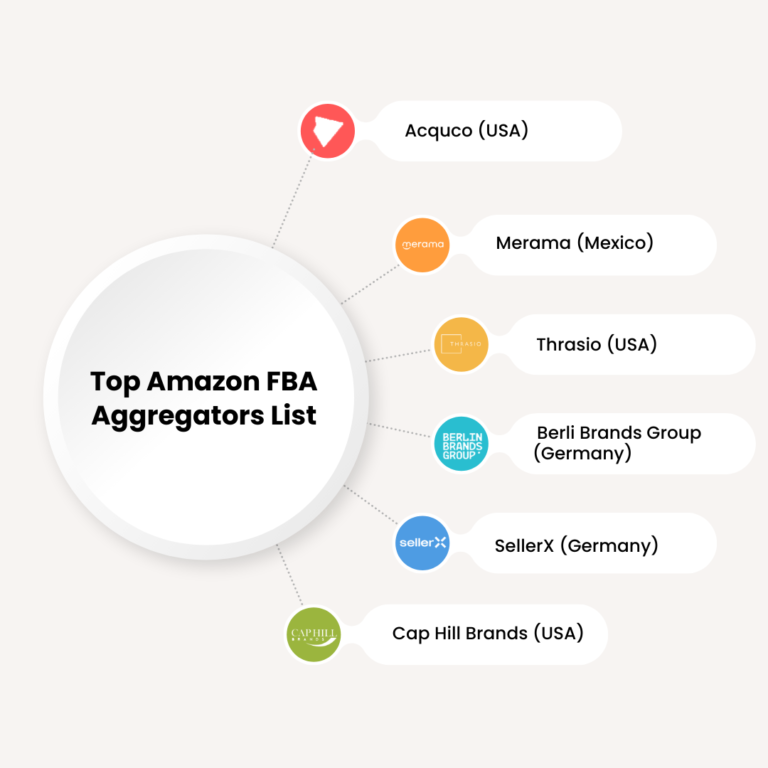 1) Acquco (USA)
Former Amazon employees developed Acquco focusing on Amazon FBA firms in North America, the UK, and the EU.Operating on eBay, Walmart, Shopify, and Amazon, the company generated more than $100 million in revenue in less than a year. Also, the CEO and Co-founder, Raunak Nirmal, was recently featured on Forbes' 30 Under 30 Retail & eCommerce List 2022. Moreover, the company uses technology to automate due diligence, quickly enroll brands and retrieve unused deal flow.  
2) Cap Hill Brands (USA) 
Founded in the year 2020, Cap Hill Brands operates smartly with a team of dedicated employees focusing on marketing, distribution, post-acquisition, product development, and brand management. The firm has a portfolio of more than seven brands ranging from kids' essentials to kids' food. 
3) Merama (Mexico) 
Merama is a Mexico-based consumer product firm started by former Amazon, Mercado Libre, and Facebook employees. With $100m in debt and $60m in seed raised, the company focuses on overtaking and scaling the best Latin American brands.
4) SellerX (Germany) 
L Catterton, the biggest consumer-focused private equity company in the world, has backed SellerX in its acquisition of Amazon FBA companies. 
It already has more than 30 brands in its portfolio, but it hopes to quadruple that number by utilizing its extensive expertise of production, eCommerce, and operations to acquire and expand additional top brands in the categories of home goods, infant care, pets, health, beauty, and other essentials.
 5) Berlin Brands Group (Germany)
Founded in 2005, Berlin Brands Group is the first aggregator in Berlin and a pioneer in the DTC business. The Berlin-based Company sells more than 3,700 items per day through its 34 e-commerce brands. Out of the 34 brands, since December 2020, it has purchased around 20 brands, and the remaining 14 are in the incubation stage. Operating in 28 countries, the company has recently acquired d Orange Brands Marvin Amberg and Charles von Abercron as their founders. 
6) Thrasio (USA)
A Boston-based e-commerce company Thrasio was established with a view to acquire and build brands that are sold on the Amazon marketplace. Thrasio has a staff of approximately 700 employees, including supply chain experts, growth marketers, video experts, and brand managers. Thrasio has acquired more than 100 vendors in the previous three years. Categories include electronics, food, automotive parts, baby and child accessories, electronics, food, exercise equipment, yard, garage, home & décor, musical instruments, outdoor gear, personal care, pets, toys, crafts, and games. 
1) Alphagreen Group (UK)
2) Perch (USA)
3) Razor (Germany)
4) UnyBrands (USA)
5) Elevate Brands (USA)
6) Heyday (USA)
7) Mantaro (Germany)
8) Forest (Japan)
9) Factory 14 (Luxembourg) 
10) Global Bees (India)
What is the right time to sell your brand?
There is nothing such as the right time. You are the one responsible for the final decision. Some sellers choose to sell their brands when they are about to fund new ones, while others sell when they think of stopping selling altogether. Whatever category you fall in, you must ensure everything is accurately planned before reaching any decision.  
Are you lagging due to poor sales and don't wish to sell your brand? Our Amazon FBA consultancy has got your back! HRL Infotechs has a dedicated team of marketers and advertisers who handle everything from inventory management to advertising. They closely pay heed to scale up your brand growth and maintain a profitable business.