You know how challenging it can be to stand out in a crowded market if you sell things on Amazon. It's simple to be lost in the cacophony when millions of sellers compete for attention. For this reason, many merchants use Amazon PPC advertising to boost their visibility and sales.
But running a profitable PPC campaign is no simple task. It needs proficiency in targeting, bidding, ad placement, and a thorough understanding of Amazon's complex advertising infrastructure. Even seasoned merchants can have trouble navigating Amazon PPC's complexities.
You will discover in this ebook how an Amazon advertising agency or Amazon PPC specialists may provide the most excellent services for your company.
What do Amazon PPC Experts do?
An Amazon PPC (Pay-Per-Click) expert manages and optimizes Amazon advertising campaigns for sellers and brands. They are experts in using Amazon's advertising platform to create and run targeted PPC campaigns that drive traffic, increase visibility, and boost sales for their clients. Amazon PPC experts use various tools and techniques to research keywords, optimize ad placements, analyze data, and monitor campaign performance to ensure clients get the best possible return on investment (ROI) for their advertising spend. They work closely with their clients to understand their business goals, target audience, and competition to create effective and impactful advertising campaigns on Amazon.
Role of Amazon PPC Agency
The management and optimization of advertising campaigns on Amazon's advertising platform, known as Amazon Advertising, is the responsibility of an Amazon PPC (Pay-Per-Click) specialist. An Amazon PPC specialist's main objective is to improve sales for a particular product or product line by increasing visibility, driving traffic, and increasing sales.
The critical duties of an Amazon PPC expert include the following:
Creating and Implementing PPC Strategies: The Amazon PPC specialist must have a thorough understanding of the platform to create successful PPC campaigns that produce the intended effects.
Keyword Research: The expert should research extensively to determine the most relevant and high-performing terms for the marketed product or items.
Management of Campaigns: The expert should be able to set up and oversee PPC campaigns, including budget allocation, bid management, and ad targeting.
Monitoring and Optimization: The specialist should monitor the campaign's effectiveness and utilize data to influence decisions regarding ad targeting, bid modifications, and other optimizations.
Reporting: The expert should be able to deliver consistent statistics on campaign performance, including figures for ROI, click-through rates, and conversion rates.
An Amazon PPC specialist's position is essential for boosting sales, revenue, and exposure on the site. The professional may assist sellers and brands in achieving their advertising objectives on Amazon by creating and implementing efficient PPC strategies, carrying out in-depth keyword research, and monitoring and optimizing campaigns.
Which PPC Optimization Strategies are Most Effective?
You cannot minimize the value of Amazon PPC as a vendor. The methods listed below can help you execute an effective campaign: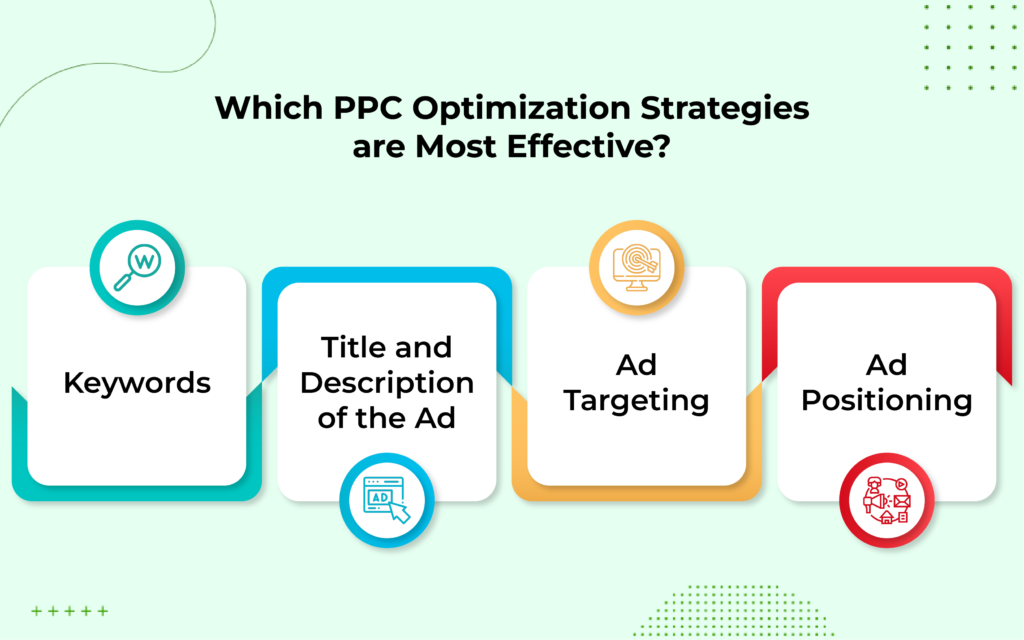 The most significant results from Amazon PPC optimization tactics come from using the appropriate keywords, ad titles, descriptions, graphics, and calls to action, ad targeting and positioning. 
Keywords: Selecting the best appropriate keywords for brands, goods, or services should be the initial stage in either advertising effort. Use tools like Google Keyword Planner or Keyword Toolbox for best results. After that, use your imagination! Consider what individuals are searching for whenever they reach your Amazon advertisements rather than just focusing on the number of queries.
Title and Description of the Ad: The title and description of your ad are pretty important in getting potential customers to click on it. To optimize the title and description of your ad, try out various ad copies and see which ones work best. These should be interesting, enlightening, and pertinent to your desired keywords.
Ad Targeting: The correct audience targeting is essential for PPC performance. Retargeting strategies are another way to connect with people who have previously expressed interest in your goods or services. You can ensure that the proper people see your advertisement by focusing your targeting criteria on variables like demographics, interests, location, and device.
Ad Positioning: The position of your ad on search engine result pages can significantly impact how well your PPC campaign performs. Raising your bid, improving your ad's quality score, and using relevant keywords can help you achieve this. Aim for the top rankings to increase visibility and your chances of getting clicks.
Are Amazon PPC Services Required?
Using Amazon PPC to advertise your goods before prospective consumers is incredibly successful. Also, it works well for increasing revenue and can aid in developing many other areas of your company.
For instance, Amazon PPC may be crucial to achieving your aim of increasing site visitors or ratings. Most merchants use Amazon PPC to increase their products' visibility on the most significant worldwide online store, including over $200 billion in revenue yearly!
Is Employing a PPC Expert a Smart Move?
The price of a PPC service varies depending on your requirements and finances, just like any alternative service. The fee for engaging an Amazon PPC specialist will also change depending on their level of knowledge and expertise. There are various factors you should take into account when selecting a reputable Amazon PPC(S) expert:
You should check the reputation of the Amazon PPC expert in the market you wish to hire. If they've been offering these services for a while, they're likely performing well enough in regards to customer overall satisfaction and income creation from clientele who frequently utilize their solutions;
You require an individual who can accommodate your schedule, so be sure that anybody you select is available, regardless of whether this involves getting numerous individuals working on numerous projects simultaneously, to ensure everything gets completed quickly but without spending much time.
How Much Should You Invest in Amazon PPC Management?
First and foremost, keep in mind that PPC marketing on Amazon is unique. It varies, is the response. Money alone won't solve the issue; other factors are at play. Consider an item that is reduced and reasonably priced. Then, instead of having a more costly or excellent quality product, you could justify spending very little on PPC.
There is no one correct response here, as this will lead to more focused hits. Nonetheless, investing more money to attract the most significant possible portion of your target market is reasonable. Depending on just what your campaign's objectives are.
Summing up 
MMF Infotech is a fantastic Amazon account management agency that has been providing helpful services to businesses for years. Our Amazon experts provide services that are tailored to your needs and goals. As an Amazon PPC agency, we collaborate with you to study your target market, choose the appropriate keywords and write catchy ad copy that encourages clicks and sales. For the highest potential return on investment, we'll also assist you in optimizing your bids and ad placement.
Our group is dedicated to assisting you in achieving your objectives and prospering on Amazon. We can assist you in introducing a new product, growing your market share, or achieving profitable growth. Why then wait? Contact us immediately to find out how we can assist you with advancing your sales.