Boost eBay Listing Optimization Services in 6 Ways!
You can begin listing your products for sale now that you have finished setting up your eBay seller account. An eBay product listing SEO consists of more than a title, image, and description. Depending on how effectively you handle the numerous elements of a good eBay product listing, your business could succeed or fail depending on how well you handle it. Doing nothing will only result in a handful of sales at most, so let's make sure you're prepared for success when it comes to eBay product listing.
Successful eBay listing optimization will encourage prospective purchasers to finish a purchase and improve the listing's search ranking. Along with drawing customers, it also needs to influence eBay's search result algorithm and boost conversion. There are several requirements for your eBay listing optimization. To attract customers to your listings, use descriptive language that is clear and concise, speedy shipping tags, and product IDs. Here are our top recommendations for improving your eBay auctions' conversion rate and sales ranking.
Follow these Ways to Create an Effective eBay Product Listing SEO?
It can appear that improving your listing for sales and conversion & optimizing for search discoverability are 2 separate and occasionally at odds factors. But by displaying the products that a client is most likely to buy based on their queries, eBay's search algorithms are made to maximize revenue.

Because of this, discoverability and conversion are mutually exclusive terms. The criteria most influence customers that determine the visibility of your products for a specific eBay search. Here are a few quick eBay listing optimization tips to help you make sure your listings are high-quality, optimized, and compliant with eBay's policies.
Here are 6 ways to improve your eBay listing optimization:
1.Provide Precise Product Descriptions.
Reaching new clients who might otherwise be reluctant to buy from you directly is one of the enormous benefits of selling on a marketplace like eBay, especially for less well-known companies and sellers. Customers on eBay can feel safer making purchases from new or unknown brands or sellers because of the precautions and guarantees eBay has set up to protect customers and maintain a quality catalog across millions of sellers.
The consumer experience is something that eBay values highly. Giving your customers insufficient, inaccurate, or misleading product descriptions is a definite way to annoy them. Include the following to please both eBay and your clients:
Complete and accurate product descriptions,
Costs and timing for shipping and handling,
The return procedure, warranty details, and
Precise details about the place you're shipping from.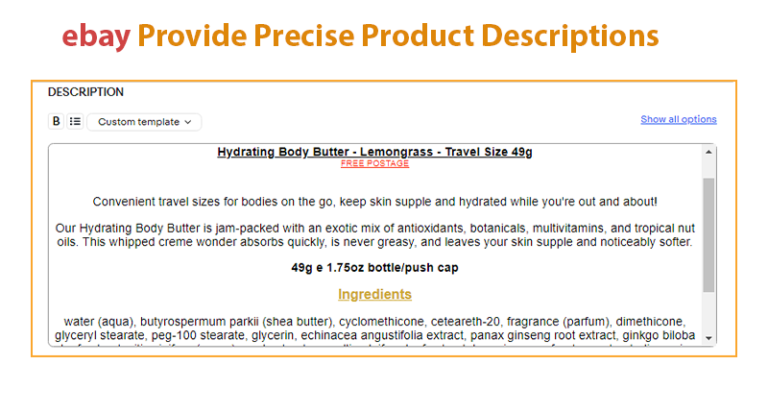 2. Avoid Overusing Keywords.
Although things like keyword density play a role in how eBay ranks search results, cramming your item titles and descriptions with keywords won't make a difference. This is where Google and eBay differ significantly: when Google surfaces the best information for a search, relevancy factors like keyword density are especially important. On eBay, search results are significantly more heavily weighed by verifiable revenue outcomes.

An eBay listing titled "iPhone Apple Apple Cool Smartphone Unlocked and Good" doesn't improve your discoverability on eBay's search engine for the search term "Apple iPhone Smartphone." Your listings will seem terrible, and your conversion rates will drop, resulting in fewer sales and less money.

Conversion rate, sales velocity, and revenue are essential eBay indicators of which sellers and products will perform best when appearing in search results for customers. Don't jeopardize your chances by employing antiquated eBay product listing SEO strategies that won't provide results.
3. Don't Create Duplicate Listings.
Amazon's catalog-based system creates one product listing page for each seller of a specific product. However, eBay continues to provide distinct individual eBay product listing pages for each sold product. This implies that a product search on eBay may yield hundreds of distinct eBay product listing pages from various vendors for the same product.

It can seem wise to increase your chances of success while competing against so many other retailers by repeating your eBay product listing and possibly altering some of the content to target various search terms. By doing so, you offend eBay seo services. They aim to make their seller-based product listing catalog system, which is already convoluted and challenging at times, better with PBSE (Product-Based Shopping Experience) listings. Duplicate listings from sellers would be the absolute last thing they want.

Your search rankings may suffer if you violate eBay product listing restrictions, particularly by producing duplicate listings. Your listings or even your eBay store may be deleted.
4. Avoid Mentioning Irrelevant Links.
Contrary to Amazon, on eBay, competitive sellers of the same product have the chance to highlight their distinctive product listings and offer their content. You can leverage your product listing page to highlight why you're the best seller to buy from if you're one of the numerous retailers offering the most recent model of iPhone, and the reasons aren't limited to price.
With eBay, you have more creative freedom than with Amazon because you are in charge of creating your product listing. The eBay selling experience offers a more substantial opportunity to sell buyers on your brand, your items, and the service you can provide them, even if you are selling your own exclusively branded product.

By including links to more specifics about your brand, the item, the shipping procedure, customer care, and warranty information, you can fully benefit from this. Basically, anything you can think of will help the customer decide what to buy. A standard error made by new eBay sellers is utilizing their listings to divert traffic away from eBay and onto their websites or connecting to information unrelated to the item being sold or whether it should be purchased from eBay.

In any of eBay's terms are breached by your listings, including:
Directing customers to your e-commerce site to purchase the item at a discounted price,

Linking to forms for marketing signups, or

Referring to relevant products you sell.
5.Fulfill Your Shipment Commitments.
Dropshipping is permitted on eBay, but only if you can fulfill orders within eBay's 30-day delivery window, which is the maximum. eBay doesn't anticipate 100% on-time delivery rates because things don't always go as planned. It would help if you established and consistently upheld precise and transparent standards for shipping timelines. Still, if your shipment performance consistently falls short of your claims, they will take action against you, and your product visibility will suffer.
6. Focus on Consumer Reviews & Satisfaction.
Reviews and titles are displayed directly at the top of your listing, immediately impacting visitors. For buyers who wish to examine the product and the opinions of other customers who have purchased it, reviews listed beneath their descriptions greatly assist. This improves your evaluations while also fostering customer loyalty and repeat business. Ultimately, spend money on a top-notch client experience.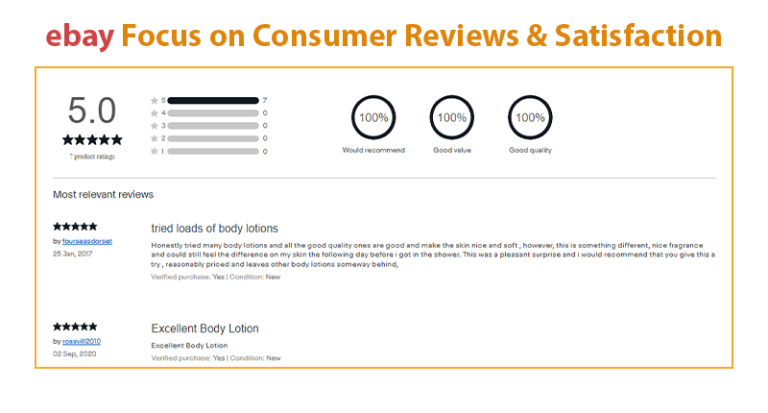 How to Optimize eBay Product Listing?
Pick 3 to 5 keywords

– Sellers should choose a few search terms that potenti

al purchasers use and then include those terms in the title and description. For instance, be more specific if you sell second hand men's clothing. Consider referring to it in the title as an "Adidas Men's L T-Shirt Graphic Logo" or "Graphic Logo Men's T-Shirt L."

 

Incorporate ISBNs or UPCs when possible

–

These distinctive identifiers make it easier for search engines to locate your goods when users seek them. These codes are placed in a specific field on eBay.

 

Provide free shipment to gain more visibility

–

eBay users can search for items with free shipping (as they frequently do). It's as effortless as ticking a box to the left of their search engine results. A listing will remain competitive if it offers free shipping.

 

For returns, allow at least 2 week

–

This is an additional technique for optimizing your listing to eBay users rather than search engines. The website rewards sellers who accept returns. Few customers should wish to return their product anyway if you adequately describe the product and offer images.

 

Post no less than 2 product images

–

According to eBay, sellers who include images in their listings see significantly more clicks than those who don't. It makes sense; consider the last time you made an internet purchase after merely reading the description.
Why is it Essential to Use an eBay SEO Tool?
You will need an SEO tool to view the most popular search for products similar to yours. Cassini (the eBay search engine) and other search engines examine listings for keywords related to the user's search criteria. The algorithms examine all the text on the page in addition to indexing item names. The best eBay seo tools are – Terapeak, ShelfTrend, Algopix, ZIK Analytics and LimeStats.

You've probably realized that eBay listing optimization requires considerable effort. But We assure you that it will be rewarding.
All of the advice offered here can be summed up as follows: You are not the target audience for your product. As you create your product listing, ensure to place yourself in your customers' perspective. After that, test your ideas to acquire genuine feedback from your potential customers. This feedback will be valuable since eBay and its search engine Cassini is targeted toward consumers. Connect with HRL Infotechs to understand and implement eBay listing optimization services efficiently. We provide the best eBay seo services, try them out on your own.