Selling on Walmart vs Amazon has some important differences that sellers need to know if they wish to explore both platforms to boost their sales. If you have previously sold on Amazon or any other marketplace, moving to Walmart Marketplace  will not be difficult as the basic selling rules apply here as well. But knowing the differences between selling on Walmart vs Amazon (even for experienced sellers) is a great way to maximize your potential.
Differences Between Selling on Walmart Vs Amazon
Difference #1: Seller Competition
With intelligent merchants establishing themselves in the marketplace, Amazon has developed into a highly competitive market over time. Experienced Amazon sellers use a variety of tactics to boost their rankings and generate a lot of sales. Walmart's level of competition is still not as intense as it was for Amazon six or seven years ago. Even in highly competitive niches, ranking is significantly simpler, and the PPC cost is substantially lower. 
Difference #2: Traffic Per Month
Walmart gets around 120 million unique visitors, while Amazon gets around 200 million in a month. Comparing the traffic on both the marketplaces, there's a difference, but the difference isn't quite huge. Aside from the lower unique monthly visits, Walmart hosts fewer sellers (1 million sellers vs 1.9 million sellers on Amazon). This also brings you a greater potential to attract more eyes to your product listings with Walmart.
Difference #3: SEO and Ranking
While there are some significant distinctions, ranking and SEO are relatively similar. Both marketplaces offer the option of ranking products depending on conversion rates. However, Walmart lays a bigger emphasis on content and their listing quality score rating, while Amazon places a greater emphasis on SEO. Content, shipping efficiency, cost, and customer reviews are all factored into the listing quality score.
A product will be guaranteed to rank well with a high listing quality score and conversion rate. For your listing quality score, a mark of 80% or more is advised to rank on Walmart. Because Amazon emphasizes SEO more, you will frequently see keyword stuffing in the listing's title, bullets, and description.
Difference #4: Fees
Sellers on Amazon must pay a monthly charge of $39.99 to sell on the marketplace. Walmart does not levy a monthly fee on its vendors, though.
Only once items are sold will Walmart merchants receive referral payments. Similar to fulfillment fees, referral fees might change depending on the product.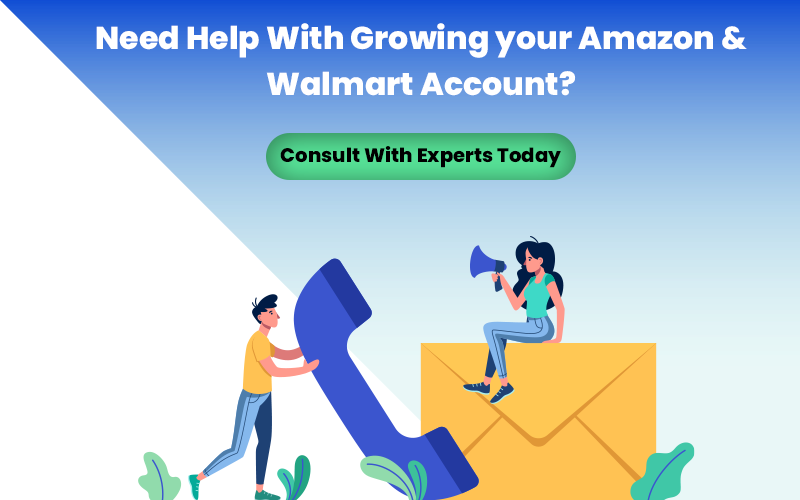 Similarities Between Selling on Walmart vs Amazon
Similarity #1: Fulfillment services & Guaranteed 2-Day Free Shipping
The first similarity between Walmart and Amazon is that they offer fulfillment services. This allows sellers to either fulfill their orders themselves or through fulfillment centers. The only difference is Walmart lets sellers ship their inventory to Walmart's fulfillment centers from America, while Amazon lets sellers ship their inventory to FBA from other nations.
Customers having Walmart membership can receive their product either the next day or within 2-days for free, just like Amazon's prime membership. Walmart and Amazon also offer free shipping to customers if their order meets a minimum of $35 on Walmart and $25 on Amazon.
Similarity #2: Listing Optimization
As an Amazon seller, you must know how crucial it is to have an optimized listing. An optimized listing helps your product get discovered in the search and get it in front of the customers. This even helps with minimizing the returns.
Your product won't rank without keywords or excellent infographics on both Walmart and Amazon. They are indeed different marketplaces, but the optimization rule applies to both. So it's important to enhance your listings with more photos, relevant information, and selling points so that customers add your products to their cart.
Similarity #3: Existing Traffic 
Another great similarity between Walmart and Amazon you should know about is they both have existing traffic. Walmart gets around 120 million unique visitors, while Amazon gets around 200 million in a month. This means that sellers have a great opportunity to cash in on Walmart and Amazon by targeting organic ranking or adopting pay-per-click advertising.
Similarity #4: Customer-Centric Focus
Walmart and Amazon work on the principle of customer-centric focus. This is because both these marketplaces want happy customers and receive high-quality products at low cost and with free shipping, so they have reduced return rates.
To ensure third-party sellers ship the highest quality service to customers, sellers are also flagged and suspended from these platforms.
Amazon or Walmart? Or Both? 
The popularity of Amazon and Walmart Marketplace, in particular, will continue to soar in 2022 and beyond. Holding a presence in at least one of these booming markets can be a great way to cash in for internet business owners.
Amazon is beginner-friendly compared to Walmart, but both offer the incredible opportunity to reach millions of customers. As there's this piece of advice, don't put all your eggs in one basket, we recommend selling on both marketplaces to increase sales. Need help growing your business on Amazon or Walmart? HRL InfoTech's is the best ecommerce marketing agency that can help you escalate your sales and grab massive profit. 
Frequently Asked Questions
q1. Who owns Amazon?

Jeff Bezos is the person who owns Amazon. His ownership share as of 2022 exceeds $130 billion.

q2. Who owns Walmart?
Walmart is owned by The Walton Family. Walmart is a company that is traded publicly. However, the Walton family owns more than 50% of Walmart through Walton Enterprises, its holding company, and individual family member holdings.
Q3. Which platform is number one, Walmart vs Amazon?

Amazon out profits Walmart in terms of revenue

With over 9 million sellers & 1.5 million active merchants on its marketplace, Amazon leads the e-commerce industry. Third-party vendors make up more than 82% of these sellers.