Promote Your Brand through Walmart Advertising Services
A significant improvement for Walmart Advertising Services is the addition of keyword bidding for Walmart Sponsored Ads. However, The service is much more constrained than its Amazon version. Walmart added keyword bidding to their online marketplace advertising platform in mid-April. We have been investigating and evaluating the new service's features. What we currently understand is listed below.

In What Ways Does Walmart Advertise?
Have you ever wondered how Walmart advertises or what Walmart advertising strategy is? By establishing itself as a media platform, it regularly makes a significant push to scale Walmart advertising campaigns.
Walmart manages the transactional data of its customers and assists brands in retargeting consumers to Walmart.com. The company's brick-and-mortar facilities, which deliver on a promise to link online and offline customers, are the most significant selling point. Walmart is making this count by promoting its combo as a critical differentiator from Amazon. This is achieved through regular meetings with prospective clients, summits with brands and agencies, and educational events.

According to recent Securities and Exchange Commission filings, Walmart has more than 5000 outlets worldwide, and its e-commerce operation has grown by 50% in the second quarter of every year. Although online sales only make up a small portion of Walmart's $486 billion in annual revenue, ad buyers credit e-commerce companies. They suggest that the ad system will continue to expand. Online searches frequently lead to retail purchases. There are higher chances of Walmart surpassing Amazon in terms of valuable traffic if it owns more searches.

Walmart Advertising Strategies
Have you ever wondered how Walmart plans Walmart advertising campaigns? They diversify it on their website by employing the following ad formats:

Product listing ads

Organic search

Native Ads

Banner Ads
What Do Walmart Sponsored Ads Mean?
Walmart.com uses a bidding system for Walmart sponsored ads, similar to Amazon. Sellers place bids on an allocated list of keywords related to their ads. When a customer's search query incorporates that keyword, their ad surfaces, and the seller wins the bidding.

WPA allows vendors to bid on keywords based on match type: a broad, phrase, or an exact match. The minimum keyword bid is $0.30 as of April 2019. Although it does not now allow negative keywords, the Walmart advertising services plans to introduce them shortly.

What Are the Key Benefits that Walmart Sponsored Ads Offer?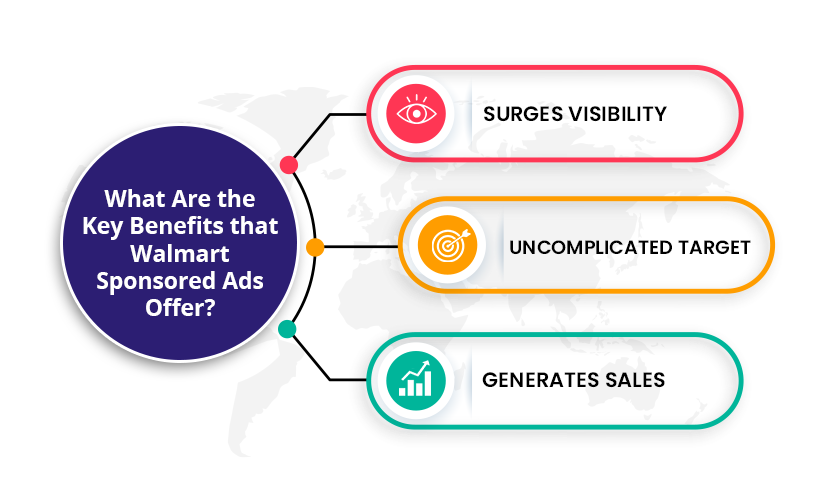 Walmart.com's keyword bidding improvements are a huge step forward, but they must improve significantly before it can compete with Amazon. However, Walmart Sponsored Ads to provide a unique set of advantages for the Walmart marketplace, such as:

Surges Visibility

– Every month, more than 100 million potential customers visit Walmart's search results, product detail, and category pages. As previously stated, these are the main places on the website where Walmart sponsored ads are displayed. Each segment receives much traffic, which increases the visibility of your products.

 

Uncomplicated Target

–

The process is straightforward as Walmart chooses where to place Walmart advertising campaigns and which keyword combinations work best with other listings.

 

Generates Sales

– Directly guides prospective customers to the product pages for purchasing. Additionally, you only get paid when a user hits the advertisement. This means your products are advertised on a well-known platform at a reasonable rate.
Few more are as follow:
Escalating sales

Showcasing your product to Walmart's huge target audience

Guarding against competitive product launches

Improvising seasonal campaigns

Assisting you in finding new audiences and keywords for your listings

Enhancing organic ranking by scaling conversions and traffic
Where Might Walmart Sponsored Ads Show Up?
Walmart Sellers can also spend money on an advertisement to publicize their sponsored products online:
1.Results of Organic Searches.
One of the significant locations for sponsored ads or listings in search results. Advertisers can choose particular search terms or keywords that consumers use and increase their bids. This ad placement is highly valuable due to the intent to purchase when they search for a product on an e-commerce website.
2.Homepage – As Banners.
The homepage of a website is one of the significant locations for sponsored ads. It is one of the best strategies for businesses to raise consumer awareness and encourage purchases of their goods. However, online sellers demand a hefty sum for this location.
3.Results Page by Product Category.
When a person browses the website, sponsored ads are displayed in a specific product category section. Although it isn't a search in the strictest sense, exploring the categories indicates a purchase intent and guarantees accurate targeting.
4.Product Description Page.

There will be Other Related Products/Customers Also Viewed These Products on every product page in most online marketplaces. Vendors contend for these positions because doing so also influences people to buy. There are hence good reasons why vendors advertise their goods in these spots.
5. Emails.

Sponsored ads or listings aren't only restricted to websites. You can add them to emails to increase money without interfering with the reading experience. There is also a sizable benefit for making less effort.
Limitations on Keyword Bidding at the Campaign Level
Walmart Seller Central permits keyword bidding only at the campaign level presently. Walmart advises between 30 and 50 products, but advertisers and sellers are free to use any amount. After developing the campaign, sellers generate a keywords list for that campaign. If your bid is successful, Walmart will choose the item from your campaign that they feel is the most relevant to that term and then display an ad for it. Walmart has stated that selecting the most pertinent goods considers the title, product description, backend keywords, price, and sales history.

Precisely How Are Keywords Chosen?
– Manual vs. Automatic Campaigns:
Walmart Seller Central provides 2 campaign types-

Manual

– You choose the keywords you want to bid on from a list Walmart offers. Walmart chooses up to 220 keywords for the seller after selecting the most pertinent ones for the sponsored products in your campaign using an automatic keyword recommendation tool. Then, sellers decide which of those 220 recommendations to incorporate into their manual efforts. Although Walmart intends to add the capability within the year, for the time being, vendors cannot add keywords to their manual ads that are not on the published list.
You must win the Buy Box to place the bid.

The keyword match type level is where bids are set(broad, phrase, exact).

Ads are only eligible for search within the grid.

220 keywords are permitted for each campaign.

Minimum spending for a campaign: $1,000

Minimum daily expenditure: $100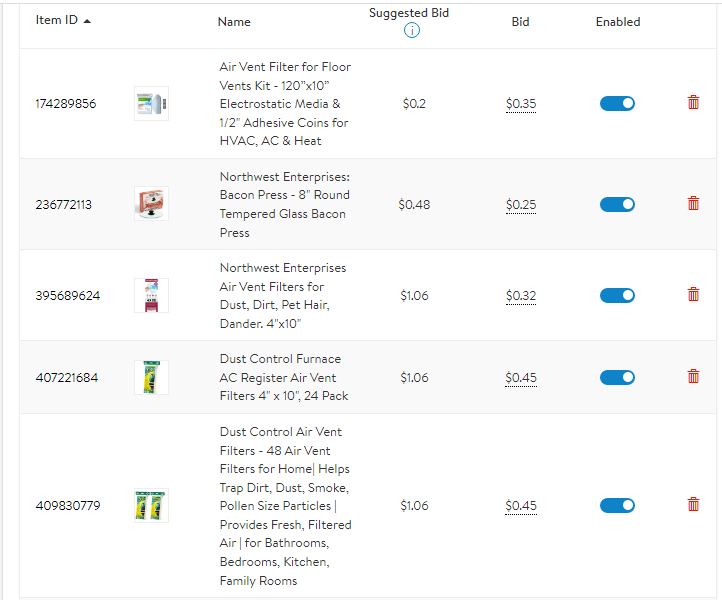 2. Automatic – Walmart chooses when to display sponsored products based on keywords found in the product title, description, and other areas of the product listing, product category, and similar product section. Walmart provides a list of the search terms used in its automated advertising that resulted in conversions to its sellers.
To place the bid, you must win the Buy Box.

There are product-level bids.

All WPA placements are permissible for ads.

Minimum campaign budget: $1,000

Minimum daily spend: $100
Walmart is rapidly growing its online advertising network. Brands would be irresponsible if they ignored Walmart.com, which is backed by substantial resources and has the potential to become a key player in e-commerce.

Don't hesitate to get in touch with your account manager or use our contact form to get help in scaling your online presence by joining Walmart Seller Central. We'll collaborate with you to start your entry into Walmart's online market.