Desire Boosting Your Sales with Amazon Lightning Deals & Coupons?
One thing is what many Amazon shoppers are looking for: a good deal. Price comparison and searching for deals are made simple when buying online. Additionally, given the high level of customer trust in Amazon and the advantages of fast shipping provided by Amazon Prime, Amazon Seller Central is an excellent venue for businesses to run special deals and discounts. 
Losses could be severe if you go beyond. What number of discounted things can you sell before calling it a day? Setting up Amazon Lightning Deals is an excellent choice. These are short-term promos that are only active for a short period. This is a great deal for Amazon customers. Some brands might, however, be curious as to the benefits. Continue reading to learn how to benefit from these offers.
Utilizing Amazon Lightning Deals is one strategy for engaging your audience. They are limited-time promotional offers that are available on Amazon Seller Central. They often appear on the Amazon Deals Page for 4-6 hours. You can immediately increase sales by hosting a Lightning Deal for your goods. You also need to understand why and how to use Amazon Coupons?
Everything that you need to know about Lightning Deals & Coupons, including whether they're worthwhile, will be covered in this article.
How do Amazon Lightning Deals Work?
Discounts and promotions are a terrific method to raise your ranks and increase sales on Amazon Seller Central. In that situation, Amazon Lightning Deals are your best pals. They make it simple to decrease your inventory as well. Sellers launch these brief promotions to pique customers' interest and increase sales. Additionally, shoppers might get a terrific offer with Amazon Lightning Deals.

Most categories, including electronics, apparel, home appliances, beauty products, etc., have discounts and lightning deals that customers may take advantage of.

Eligibility Criteria for Running Amazon Lightning Deals
You must fulfill the following requirements to be qualified to create a lightning deal:
You Got to Be A Professional Seller: Therefore, individual account-based vendors are not permitted to make Amazon lightning deals. It costs $39.99/month to have a Professional Seller Account.


Each month, you must receive at least 5 seller feedback ratings.

Maintain an Overall Rating of 3.5-Stars: Generating a lighting deal requires your sales history to have a rating of at least 3.5. If your rating is under 3.5, you should concentrate on giving your customers a wonderful experience to raise it.

You must also be eligible to sell the products you want to highlight in Amazon's lightning deals. Mainly, your Amazon product management must satisfy the following requirements:

Your products must have at least a 3.0-star rating.

The product reviews must follow Amazon's customer product review guidelines.

Where applicable, the product must include all of its modifications.

All the products must be brand-new. You can't use 'used' products in lightning deals.

Your products shouldn't be offensive, inappropriate, or restricted.

The product must be Prime-eligible for all areas.

Your product must abide by the pricing and deal frequency guidelines.


As a result of Amazon's stringent adherence to its regulations, it is imperative to abide by these rules to prevent fines and account restrictions.

How Do You Configure Amazon Lightning Deals?
Do you believe that Amazon Lightning Deals might give your company the push it needs? Assuming you have complied with all the prerequisites, we'll now demonstrate how to set up a lightning deal for your brand. Follow these steps: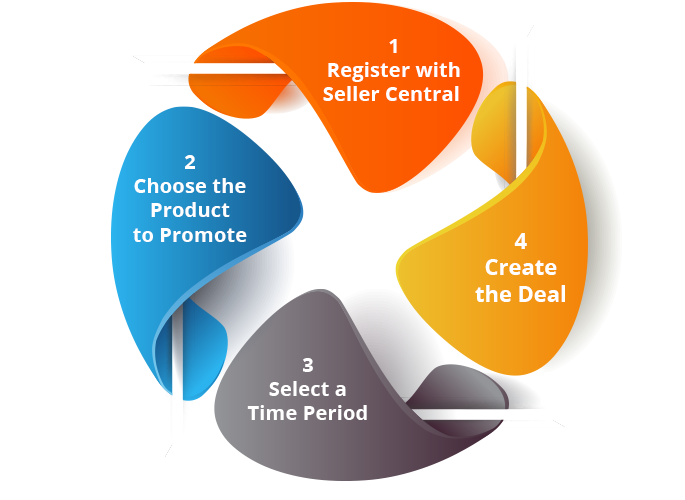 Register with Seller Central – Select the 'create a new deal' button under the 'advertising' section.

Choose the Product to Promote – The dashboard will direct you to the lightning offers. You must provide the necessary details for the transaction here.

Select a Time Period – You, as the seller, can suggest a time to close the deal. However, the precise time each lightning bargain runs can only be decided by Amazon.

Create the Deal – Submit the deal pricing, the number of each product, and its variations.
For the deal, Amazon will determine the maximum price, the minimum discount, and the minimum quantity. If you cannot locate products for Amazon Lightning Deals, you must check whether you are eligible for the same. That's about it; you can now visit the overview page. Before sending the transaction to Amazon, you can review its details.
Does Amazon Levy a Fee for the Lightning Deals?
Yes, after successfully submitting a Lightning Deal, Amazon does charge a fee. One of the often occurring variables affecting the cost of your Deal is 'Date range.
Go to Seller Central > Reports > Payments > Transaction View > Service Fees for more information regarding your fees.
Remember that just because a product is featured on Lightning Deal doesn't mean its listing will succeed. You are charged by Amazon whether or not your deal is successful. If you or Amazon decide to end the transaction before the scheduled start time, Amazon won't charge you.
Perks of Creating Amazon Lightning Deals
On Amazon, the Lightning Deals page is among the most visited. Lightning Deals are designed to provide buyers with little windows of opportunity to locate excellent bargains on the goods they wish to purchase.
By utilizing Amazon Lightning Deals, you can:

Boost your sales

Swiftly minimize inventory

Uplift brand recall

Enhance your listing traffic
Similar to department or grocery stores, Amazon offers discounts using coupons to boost sales. Amazon is aware that offering customers a better bargain will encourage them to purchase more items and to consider items that are not an immediate necessity. Except that they are entirely digital and won't be delivered by mail, Amazon coupons are comparable to coupons seen elsewhere.
Amazon offers discounts in various ways, some of which are automatic, but customers have more control over coupons. The Coupon needs to be attached to be used. The most significant distinction between coupons from other sources and those from Amazon is that you are in charge of setting up and using the discounts because Amazon is primarily made up of third-party vendors.
Although the marketplace does establish some limitations on who is permitted to utilize coupons and the range of discounts, the seller has the final say over what is included in the Coupon. Although Amazon provides the tools, it is up to you to figure out how to use them and maximize the benefits of the coupons for your purchases.
Frequently Asked Questions about Amazon Coupons!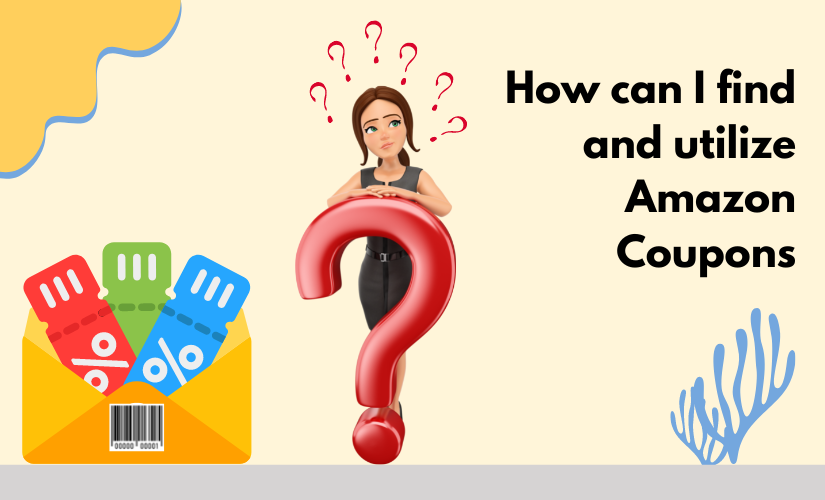 1. How can I find and utilize Amazon coupons? 
You can locate coupons on the Coupons Home Page, Product Detail Page, Search, Product Listing Pages, and Your Shopping Cart. By using the Collect Coupon button found on these pages, you can collect coupons before using them. The Amazon discount code will automatically apply when you check out using the coupon.
2. Are there any coupon codes I need to copy-paste? 
Promo codes are not readily available to copy and paste. When you check out, the Amazon discount code will be applied instantly when you click the Collect Coupon button.
3. Can I get a coupon today and use it later to buy something? 
Yes. From the Coupon bar on the Coupons pages, you can see the Coupons, which will expire soon, so that you can purchase them before expiry. When you buy the item from the same seller from where you obtained the voucher, the coupon will be automatically saved to your account and applied. Meanwhile, if the coupon validity expires, it'll be removed from your account.
4. Where will I find the coupons collected by me? 
When you visit the Amazon Coupons page, you'll find a View Coupons link on the Coupons Bar at the top. Once you click on it, it'll take you to the Your Coupons page showing all the valid coupons collected by you.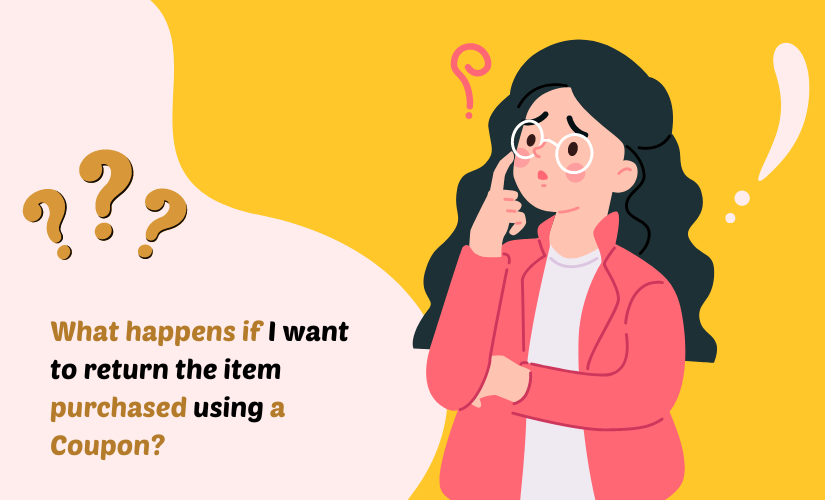 5. What happens if I want to return the item purchased using a Coupon? 
If you return the item within the return window and want a refund, you'll get the amount paid by you. If you want a replacement, you'll get it for free without any additional payment.
6. If I collect a coupon and purchase multiple quantities of the item, will I get the discount on all items? 
No, only one unit of your order will be eligible for the Coupon discount. For instance, if you receive a coupon for 5% off Item X worth $100 and spend $400 on 4 pieces of Item X, you will only receive a discount of $5 and not $20.
As a vendor or seller, running Amazon lightning deals & Amazon coupons should be a component of your long-term Amazon marketing services. It not only raises awareness of the deals'/coupons' products but may also have a halo effect on other products or brands of yours, boosting sales. 

These deals and coupons can improve visibility and grow your brand. They also allow you to sacrifice incremental profits for a more significant benefit, which can be less expensive than paying a hefty upfront fee. Also, they often elicit a sense of urgency because many are time-limited or have a set number of redemptions.

Discover more about Deals & Coupons on Amazon and Grow Your Brand with us. Reach out to us now for Your Amazon Account Management.