To offer amazon sellers improved access to display inventory Amazon Sponsored Display Ads were launched in November 2019 by replacing Amazon Product Display Ads. Since then, these ads' popularity among sellers has increased significantly.
Are you among those wondering whether amazon ads are worth it? Whether you can incorporate them in your marketing strategy to get better sales? The answer is yes! These ads effectively retarget buyers who visited your product but haven't taken any action. When it comes to stats, it is observed that successful retargeting can surge traffic by 700%, increase CTR by 30%, and mitigate cart abandonment by about 6.5%.
After knowing how vital Amazon Display Ads are for your success on Amazon, are you looking forward to some best practices to create Amazon Sponsored Display ads? This blog will discuss the best practices you must adopt when creating or optimizing your ads.
Amazon Sponsored Display Best Practices
When it comes to Amazon PPC campaigns, and especially sponsored display campaigns, you cannot move ahead with the mentality that "forget it, ones set." It requires continuous optimization and monitoring to get fruitful results. Here are some tips to get the most out of your Amazon Sponsored Display campaigns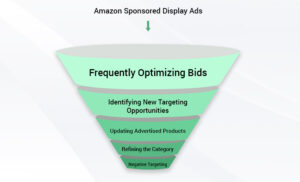 1) Frequently optimizing bids
The first thing every seller should keep in mind is adjusting the bid from time to time to ensure the ACOS is maintained as per your target. To make informed bidding optimization, you can use the campaign metrics. 
For optimization, simply increase the target bid when the target value is greater than ACOS and decrease the target bid when the target value is smaller than ACOS.
2) Identifying new targeting opportunities
When you are working on Sponsored display ads, it is important that you continuously look for new targeting options. Harvesting targets from Sponsored product campaigns is one of the ways, but there are other ways also to identify ASINs that you can target with Amazon Sponsored Display Ad campaigns.
Go to your product detail page and check out the section "'Products related to this item.
To find out the potential complementary ASINs for targeting, check out the section "Frequently bought together.
Go through the brand analytics dashboard in vendor and seller central to check the reposts for bundling and shopping behavior.
The strategy of targeting and testing out potential ASINs is great; however, you must not forget to retire products that are no more performing as per your expectation.
3) Updating advertised products
Continuously updating the products you advertise is equally important to researching and trying out new ad targets. So, the next question is how to identify a good product for advertising. A good advertising product should have the following characteristics.
Well maintained ACOS
Good profit margin
High sales volume
4) Refining the category
If you wish to go with category targeting, you can take the benefit from the "refinement option." Here is how:
Rating: Targeting substitute items that have comparatively lower ratings than your product
Price: Targeting competitor's products that are expensive compared to your product
Prime eligibility: Targeting non-prime eligible products
Brand: Targeting biggest competitors
5) Negative targeting
Negative targeting allows you to add negative targets to prevent those products or brands you do not wish to target through your ads. Here are the steps to add negative tagetes:
Go to the campaign manager and click on the campaign using "product targeting" as a targeting option.
Click on the ad group.
After this, a tab with "Negative targeting" will appear on the left-hand side. Click on this tab.
Choose your negative targets.
Points To Remember
Sellers can customize views remarketing ads with a headline or a custom brand logo.
Currently, no negative targeting is available for views remarketing campaigns.
Keep a check on the budget and ensure that the budget is enough to keep your campaign live throughout the day.
To get the potential impressions, it is essential to monitor those campaigns that often run out of daily budget.
The Bottom Line
If competing for a buy box and surging brand awareness are your targets, you can't win the show without display ads on Amazon. Amazon Sponsored Display Ads is an efficient way to reclaim lost sales and improve your upper funnel by remarketing or marketing to targeted audiences. Hopefully, the practices mentioned above will help you to get through. Still, if you need help with Amazon advertising services, you can reach out to our proficient Amazon marketing agency experts.